Hey Southern Institute friends! I'm Kirstin, half of a sister team that blogs at kojodesigns and I'm so excited to be here today. We adore Jenny (adore her!), can't get enough of her recipes, love her style (her camera bag is to die for!), and just wish we could spend these summer days chatting it up and drinking lemonade with her. And we're thrilled to be popping in today with a tutorial for y'all!
We've been throwing all sorts of parties this summer (and still have several in the planning stages)! And even though we have four or five "must make" cupcake toppers on our list, we just keep coming back to these fabric bow cupcake toppers. They're easy to make, they look terrific, and they can be made from fabric scraps- fabulous on all counts.
Want to make some for your next party?
Rip (or cut) small strips of fabric- about 1" wide and 5" long.
Fold the two ends over each other until they overlap with the right sides facing out.
Pull one end through. While the knot is still loose, push a toothpick into the center of the opening.
Tighten the knot and push the toothpick until it is firmly lodged in the knot (don't wiggle it too much or the bow will slide down the toothpick instead of staying put at the top).
Make a whole fleet of fabric bow toppers and use them to decorate a batch of yummy mini cupcakes!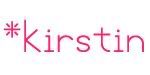 Thank you, Kirsten!  This is just the cutest idea for a cupcake that I've seen in a long time!



"Like" The Southern Institute?  "Like" it in Babble.com's Top 50 Craft Blogs poll.  It only takes a click (really) and I'd greatly appreciate it!   You can find The Southern Institute on the first page.