This is one of my favorite things about The Southern Institute community… there are so many insanely talented women!  One, who I just "met" not long ago, is Adrianne from Happy Hour Projects.  What a fun gal!  The concept of her blog is very clever and she always has great projects to share (and a weekly linky party too, you can find the link on my party page)!  It's my pleasure to introduce her to you today!  Take it away, Adrianne!


Hello, I'm Adrianne from Happy Hour Projects!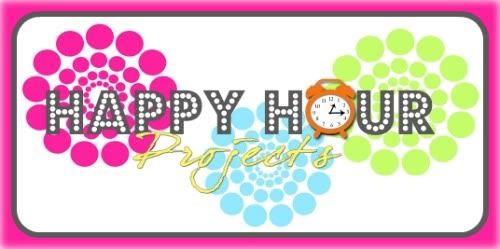 I'm a first-time mom of an awesome 10-month old girl, and a happy wife who works full-time… in addition to all the other jobs and roles we take on as moms and wives.
I bet you mamas know just what I'm talking about!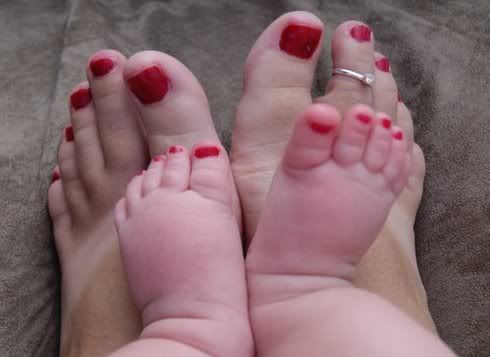 So, my need for craft-therapy generally outweighs the amount of time I have left at the end of the day. So, I do a lot of one-hour projects. That's how I am able to manage my time. That's my Happy Hour, and I love sharing it with other creative mamas, and I LOVE the friends I am making out in blogland, like Jenny! Thanks for having me over to guest post!
Over at Happy Hour, I do a lot of sewing and fabric crafts, but I like to get my hands on a lot of different mediums. So today, I'd like to show you a fun craft with yarn and glue – which I know a lot of us have in our craft bins right now. It's always a great project when you can use what you have!


Time: One hour for the project, 1-2 days drying time


Supplies:
Yarn in an appropriate pumpkin color

Scissors

Craft Glue (I used Elmer's for fabric & paper crafts)

Mixing bowl

Balloons for your pumpkin-forms

Ribbon and paper scraps

Newspaper or plastic to protect your work area (this project gets messy!)


In a bowl (I used a plastic one I didn't mind throwing away), mix a bottle of craft glue with a little bit of water. Don't thin it too much – I used about 3 parts glue to one part water.


Blow up your balloon forms to the size pumpkins you want. The smaller you make your pumpkins, the sturdier they will be, so keep that in mind. Mine are about 6 and 8 inches.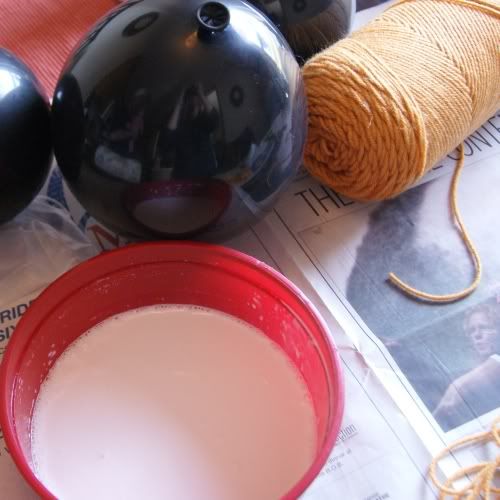 Cut a length of yarn, I found that about about 2-3 feet was ideal to work with at once. Dip your yarn in your glue mixture. I found the easiest way to work with it was to saturate it, and then squeeze the excess from the yarn through my fingers as I pulled it from the bowl. This helped me catch and untangle any knots before I worked with my balloon.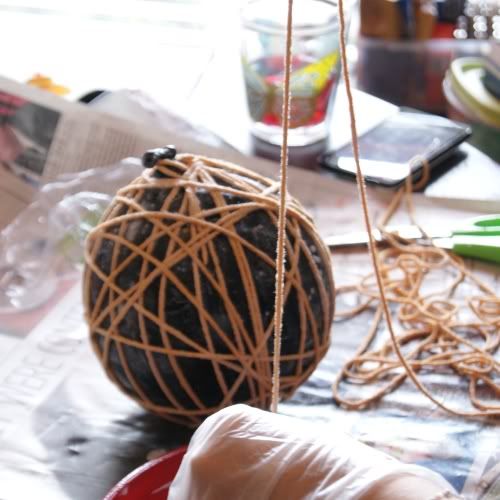 Then, begin wrapping your yarn around your balloon in whatever pattern suits your liking. You will notice I am wearing gloves, but you don't need to!  I just have an allergy, boo. 
I originally thought I would only wrap it vertically, for a most authentic pumpkin-look, but I realized about halfway through, that wasn't going to be supported if I didn't have intersecting strands of yarn to support my circular form. So, learn from my mistake and wrap your yarn in a random and intersecting pattern. 
Wrap all your balloons. My glue lasted for two pumpkins' worth of yarn. So I made two. Then, let it dry.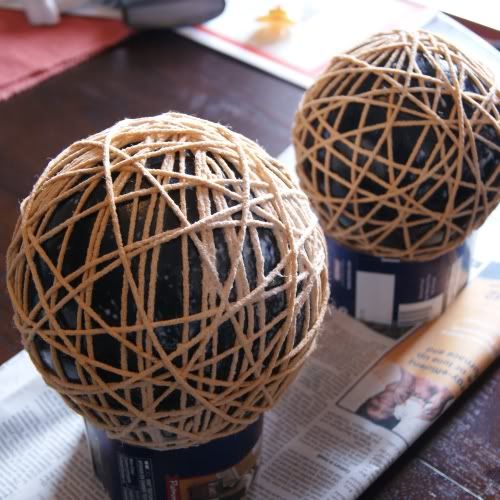 This will take at least a day, and possibly two, depending on how much glue/water mix you used, and how thick you wrapped your yarn. Mine took about a day and a half. It's really important for it to be all the way dry before you continue.
Then, pop the balloon inside, let it deflate, and remove it through one of the holes.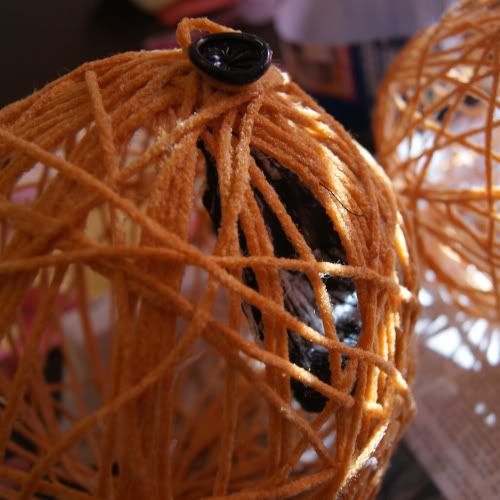 Now just tie some ribbon scraps at the top of your pumpkin to give it a leaf/stem look.
Then, to stabilize my pumpkins (since they are round, after all) I cut a strip of scrapbook paper and made it into a ring base to rest my pumpkins in.
Thank you, Jenny, for having me, and to the rest of you mamas – happy crafting from The Southern Institute and Happy Hour Projects!


~ Adrianne